Services We Provide!
When you've got a problem, Hampton Mitsubishi is here to help! We provide important services that help keep your car in top shape to make you one happy driver. Here's what we can do for you.

Oil Changes

Need an oil change? Come to us for a reliable and quick service. Oil changes are essential to the lifespan of your car. Clean oil lubricates your engine to keep it running smoothly, but old oil impairs its functioning. Old oil gets goopy and sticky, which causes it to leave residue on the engine. Make sure to get an oil change about every 3,000 miles.

Tire Rotation

When you start noticing tread wear, you should come to us for a tire rotation. Tire rotations are crucial to expanding the life of your tires. They even out the wear that your tires experience on the road. It's good to go for a tire rotation every 3,000 – 6,000 miles, but keep an eye out for uneven tread wear, because that's a sign to go in.

Brake Check

Obviously you need your brakes—they're what help you stop! So it's been a while since you've gotten your brakes checked, or if it seems like they're acting strangely, bring them into Hampton Mitsubishi. Some warning signs that your brakes might need to be checked is squealing or squeaking sounds, grinding, or vibrating.

Alignment & Suspension

If you want to keep drifting straight on the road ahead, come to us to get your alignment checked. You suspension and alignment, if properly aligned of course, keep your car travelling in the right direction and increase the life of your tires. If you notice any drifting to one side while driving or uneven wear on your tires, you may need to get it checked.

Tune-Ups

Keep your engine working properly by bringing it into Hampton Mitsubishi for those much-needed tune ups!

We provide many other vehicle services here at Hampton

Mitsubishi

in Lafayette, Louisiana! Bring your vehicle by for an inspection today!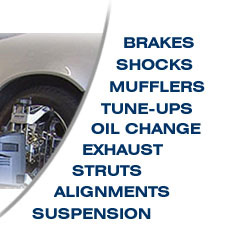 Why Service at our Dealership!
When it's time to have your vehicle inspected or fixed, you have a number of options available to you. While the price of some local garages may sound attractive, consider the value of visiting a certified dealership service department. It's an important decision to make for the condition and longevity of your vehicle.

Up-to-Date Facility: Dealerships can afford the best tools to diagnose and repair your vehicle due to their size, budget, and partnership with OEMs. Only proper equipment will be used at a dealership.

Parts: Dealerships like Hampton Mitsubishi only use OEM-certified parts that are specifically designed for your vehicle to preserve its ideal performance. These parts come from the same factories as your original vehicle and often come with a warranty.

Expertise: Dealership service technicians have been trained and certified to understand the specific models of the OEMs they service. This ensures they understand your vehicle better than non-experts would.

Customer Service: If you're a regular customer at a dealership, technicians will get to know you and your vehicle over time, keeping track of your car's condition and alerting you of any upcoming needs.

Convenience: Scheduling a service appointment at a dealership is easy, since many locations offer online calendars for specific times--which most local garages do not. Also because of the size of dealership service bays, you're more likely to get your appointment scheduled sooner.

Perks: Dealerships like Hampton Mitsubishi have comfortable waiting areas where you can enjoy drinks and Wi-Fi until your car is ready. If your vehicle requires extensive repair work, dealerships will often lend you a temporary vehicle until the work is done.

Make an appointment with our expert service department by calling us at 337-998-2995 or scheduling online. We here at Hampton

Mitsubishi

guarantee that your vehicle will receive the quality work it needs to be optimally performing.